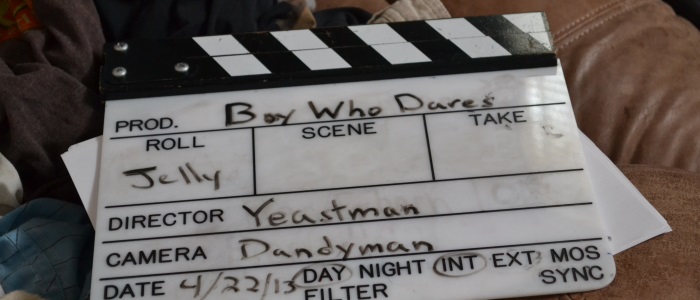 Last week we were invited to come visit the set of Zach Eastman's new short The Boy Who Stares as they were filming here in Denver. Eastman was on our show for our Burt Wonderstone review, along with actors Spencer Kane and Matty O'Connor. At the time they were promoting the release of Twombley but we spent most of the time talking about their work in pre-production on The Boy Who Stares. I could tell that this was a passion project for Eastman, not just a film with a story he wanted to tell but a film where he was searching for something himself. One of my favorite young directors right now, Jason Reitman, has said that he chooses projects that are asking questions he doesn't know the answer to, which I think makes his films feel like they are taking us through the struggles of an issue without mercy and leaves us having to decide for ourselves how we feel. While I've only seen snippets of Eastman's new film I can't seem to get away from the idea that this is the kind of film Eastman is making.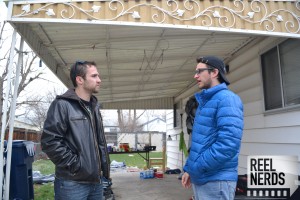 The Boy Who Stares is inspired by Eastman's experience at the Century 16 shooting last summer. While not in that auditorium, he was in the theater that night, and being so close to a tragedy like that propelled him to make a film about a school shooting. While not from Colorado Eastman respected how close that topics was to locals. He read Dave Cullen's book Columbine, and while by chance they ended up shooting on the anniversary of the shooting, it's clear from what I've seen of the movie so far that Eastman neither being exploitative or pulling punches. In order to get permission to film at Herritage High School they had to prove that this wasn't a film that was going to celebrate the violence, it was going to tell the story from a humanist experience. Matty O'Connor, who plays shooter Hector Creech, expressed some hesitation on our show at the idea that he was going to be playing Creech on the anniversary but still hoped that he could use that as motivation in his scenes. Knowing all this, when Eastman invited us to visit his set we jumped at the chance.
Brad was lucky enough to be an extra in one of their scenes at the courthouse, but I wasn't there. I attended the filming of a scene between Spencer Kane and Cougar Littlefield. Littlefield plays Sam Blaine, a man who was at the shooting and came face to face with the killer; and Kane, a writer doing research for a story years after the shooting, comes to interview him. It's a powerful scene where Littlefield takes us through the feelings of guilt and anger that haunt many of the people who experience violence like this. Littlefield's performance is enthralling and I can't wait to see it in the final cut. One of the things that struck me the most being on set was the way that each take could emphasize slightly different aspects of Littlefield's character. When dealing with emotions as complex as a resentment towards his own healing process or the healing processes of others, it requires great subtly and control to keep the character's motivations clear, and Littlefield seemed able to tweak the message in each take, giving Eastman room to work out the best way to get his story across to the audience once he gets into the editing room. It was impressive to watch and has kept me wondering since about all the other takes of great performances throughout the years that might not have been bad takes, but might have drastically changed the tone or direction of a classic scene. Seeing an actors performance from that side of the film's production has really affected the way that I think about great actors and great performances.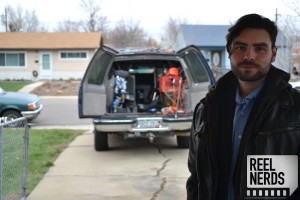 The experience of being on a set really opened my eyes to how complex and professional these small, local film crews have to be. Sure these are all fun, laid back people who were nice to me and happy to have me there, but almost immediately I noticed there was a serious undertone running through everything. In our interview O'Connor joked about how unassuming they appear when they show up to ask permission to film somewhere, just two guys dressed nicely who want to make a movie, but then a truck full of equipment and a over a dozen crew members poor out and take over the joint.
This scene took place in Sam Blaine's house, and so the crew had invaded the home of one of their friends and transformed it from a pleasant young woman's house to a dark, messy den. Details that never even made it into the shots were paid close attention and while they were trying to make things look as cluttered as possible, there was a motivation behind many of the choices. Sure the crew was excited and having fun, but they were really there to work and they were trying to each bring their own flavor to the film. While the set was being built around them, the actors were going over their lines and Eastman was there tweaking their performances with a gentle hand. I honestly felt like he was constantly aware that he didn't want to step on their toes, especially in a scene like this one with so much dramatic weight, but he still knew what he wanted to emphasize.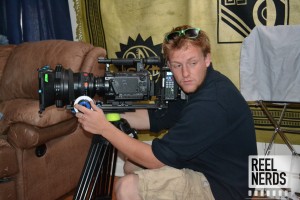 The camerawork was one of the things that impressed me the most. Director of Photography Walter Dandy was all business and I could tell how much he enjoyed what he was doing. I wish I'd had a chance to talk to him more but he was slinging around cameras and lenses, framing shots with one of those cool spyglass things, and I didn't want to interrupt. Watching him and the rest of the crew felt like a crash course in filmmaking. Between shots they were talking about shots, they were looking for boom mic shadows on walls, and they were analyzing how new techniques were influencing the look of the film. Maybe the most fascinating moment was when they removed the mount from the tripod and rested the camera on a tennis ball instead—a technique Eastman told me they'd learned that day. They were open to experimenting with new ideas like that. Things weren't all set in stone, it was a real collaborative effort.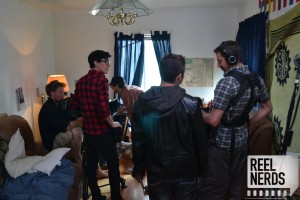 I spent some time talking to Eastman about the project and about his relationship with this kind of violence and while I don't think it's my place to reveal exactly what he said I think it's fair to say that he wants this film to express the deep wounds that these events cause and the truth that no matter how a person might be able to grow beyond being a victim they may never truly heal. I lived here during the Columbine shooting, my brother was at Highlands Ranch High School that day, I have friends whose older siblings were at Columbine, last year we lost our first great fan of the show, Alex Sullivan, in the Century 16 shooting, we interviewed his dad on our show and we continue to see him at comic stores around town. Over the last year I've realized that I'm closer to all this than I'd ever like to admit and while talking to Eastman I understood the ideas he was trying to struggle. We talked about movies that he was using as inspiration, Zodiac being one of the primaries, but little snippets of Eastman's connection with the shooting would pop up. We talked about the trial and he said that a part of him feels like Jake Gyllenhaal's character does when he says he just wants to see the zodiac in real life, to look him in the eyes. I asked him if he thought that he expected that to answer some question for him, to make it easier to understand and he said, "No." Making sense of the violence doesn't seem to be the goal here, making it feel real and shedding light on it's impact does.
We'll keep you posted as post production of The Boy Who Stares continues and we'll let you know when you have a chance to see the film. Until then check out Eastman & Co.'s last film Twombley here below.
Thank you again to Zach Eastman, Spencer Kane, Cougar Littlefield, Walter Dandy, Anthony Cubba, and the rest of the crew for letting me sit in on their fun. And be sure to donate to Aurora Rise and support the victims of last year's shooting in Aurora.
About the Author: James
James grew up in a house where Friday night was Movie night, which meant that he'd watched more movies than anybody else his age before he was even old enough to watch the rated R ones. He'll watch just about anything, though he tends to avoid the horror movies without a sense of humor. Among his favorite movies are: Alien, Fargo, True Romance, Ed Wood, and Indiana Jones and the Raiders of the Lost Ark. He's a die-hard LOST fan and a Brown Coat. As a writer, story usually comes first for James. Memorable characters and sharp dialogue are the things that separate the classics from the chaff. That said, he does his best to keep having fun at the movies. He's seen plenty of critics who would once have accepted summer blockbusters as entertainment become jaded and nit-picky. Sure James loves the art of film and storytelling, but fun comes first, the fun that he had watching Raiders when he was little. Also, E.T. scares the pants off him.