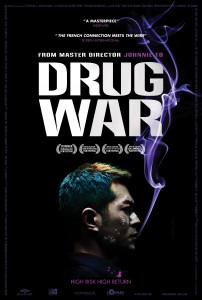 When a powerful Chinese drug kingpin is caught by police he joins them to save his own skin. That's the premise for Johnnie To's powerful film Drug War. Louis Koo plays Timmy Choi, a ruthless drug manufacturer  who barley escapes a lab accident that killed his wife. After crashing his car into a restaurant he is taken to the hospital where he is under the watchful eye of Captain Zhang, played intensely by Sun Honglei. After trying to escape the hospital he is caught by Zhang. He is told that for manufacturing only 50 grams of meth, you will get the death penalty. Choi crumbles and starts spilling the beans about deliveries and other warehouses he uses to produce meth.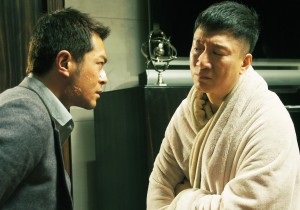 Drug War is a really cool movie. There is tension throughout the film and To does a great job balancing the interrogation scenes with the action scenes. Watching the film too as an American it is cool to see how the Chinese government uses tech to catch criminals. Koo is fantastic as Choi. He is a coward but also incredibly dangerous. And he plays both so well. You are never quite sure if you can trust him because everything he does is for himself. I got the feeling he would stab his own mother if it meant he would not die. The only way this movie would work is if Choi's "partner" matched his intensity and Honglei does just that. He is a cop that will do what it takes to get his man. And if that means he has to snort a bunch of coke to convince drug dealers that he is legit, then that's just what he does. His partner, Yang played by Huang Yi also has some memorable lines and moments like telling a drug mule who is pain because of all the balloons up his ass to "Go shit yourself!" I love tough women.
The biggest drawback in the film is the somewhat campy way the drugs effect people. It's happens immediately and not very realistically. It becomes distracting in an other wise tight film. The film also succeeds in making no one safe. There are shootouts that the cops get killed just as much as the drug dealers and not just some no name background officers, characters that you've gotten to know throughout the film are not safe.
Drug War opens August 16th in Denver at The Sie Filmcenter on Colfax. Make sure you go and check it out. If you are a fan of cop thrillers Drug War does not disappoint.
<iframe width="560″ height="315″ src="//www.youtube.com/embed/xypwVUFuGkk" frameborder="0″ allowfullscreen></iframe>
About the Author: Ryan
As far as nerds go, there are not many reeler than Ryan. His love for movies is unmatched. He also loves comic books. When you combine comic books and movies Ryan is at his happiest. He enjoys all forms of pop culture and prides himself on knowing more then average nerds. Ryan has a couple of characters he prefers over the rest, first and foremost is Spider-Man. He also loves Ash from the Evil Dead. Ryan also enjoys Finishing people in Mortal Kombat and hopping on Goombas. He has attended Comic-Con and several Starfests with his good buddy Brad. He is amazed on how awesome Brad is at designing Reel Nerds pages. But don't tell Brad he needs to stay humbled. Favorite movie: Army Of Darkness Favorite Genres: Action, Horror, Comic Book, Comedy