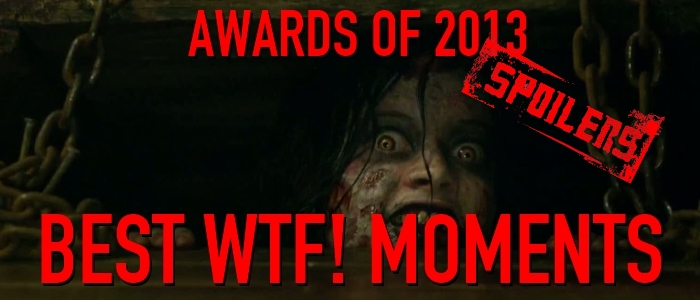 The Way, Way Back seems a little odd on this list until I remember that's it's Steve Carell delivering the line. I wasn't expecting Steve Carell to be such a dick in this movie, or to be so viciously good at it, or for that to be how the movie starts. It's an unbelievably uncomfortable scene that sets the tone for the entire first act. It really makes you feel trapped in the situation the way that Duncan does so you immediately relate with him in your joint hatred of Steve Carell's face. I hope Steve Carell never hurts me like this again.

Kruger seems like a pretty normal bad guy for the first two-thirds of Elysium, a badass bad guy but normal none-the-less. Until, that is, his face gets blown off and they put it back together. The practical effects used to punch a hole the size of large boot through the side of Sharlto Copley's face is super impressive and the way it's edited in is shocking. It completely changes who that character is and gives him some staying power in your mind when you walk out of the theater. I didn't want to include the real images of the face because they might be disturbing, but you can find them on the internet here.

Anchorman II is a really funny movie and whatever you might feel about it by comparison to the original you have to admit that you did not see any of that coming. The pet shark, the song about the pet shark, Brick with a future laser gun, Kanye West, Will Smith, Liam Neeson, the ghost of Stonewall Jackson, Harrison Ford turning into a Werewolf–need I go on?

I don't think it's the premise that made this one so shocking, it was the silhouette. Sure we can make jokes about people getting raped by demons, and they might get weirder in a movie where the actors are all playing themselves, but to see the rape is another matter entirely. Not only did you not expect to see that, you probably didn't want to either. In the context of the movie I think it's handled "tastefully" but once you're out of the theater and you say to your buddy, "Did we just see Jonah Hill get raped by a giant red demon?" that's when it hits you.

Evil Dead is a visual smorgasbord of trauma. Once the horror starts it is ruthless and original. It goes beyond just showing you really amazing gore effects and punishing its characters in inventive ways, because Fede Alvarez builds and maintains tension so well that even without the visuals you would still feel trapped. I could give you a list of all the horrible things you see in this movie but… Heck, why not? The branch attack, the jaw, the tongue, the arm, the nails, the rest of the nails, the knee, the saw, the opening sequence, and I'm still forgetting things. What's cool looking at that list too, is that if you haven't seen the movie you can't quite put together what I'm referring to, but if you have, you and I are speaking the same language. We've been stuck with horror movies like this year's Texas Chainsaw "Sequel" and the Paranormal Activities and so it's "nice" so see someone really making a horror movie that is both character driven and about as shocking and crazy as you can get.
Check out our other awards for 2013:

On Friday, January 3rd we'll be recording this year's Filmsplosion where we celebrate all the movies of 2013. Be sure to send in your votes for best film or your top ten lists or any other comments you have from this year and be entered to win free tickets to the Alamo Drafthouse and other awesome prizes.
Every week Ryan, James, and Brad of Denver based Reel Nerds Podcast attend a new movie and then we podcast our experience to the world. We also share news, opinions and reviews of movies, comics, video games and pop culture! Turn off your cell phones and save the chatter for after the credits!