MONDAY, NOVEMBER 10, 7pm, The Bug Theater
3654 Navajo St, Denver, CO 80211
FREE ADMISSION!
"GET THAT DAMN VAN!!!"
You've got nowhere to run when "Jean Claude Van Damme's Damn Van" finally premieres at The Bug Theater! Enter at your own maximum risk!
FREE ADMISSION!
But be as cool as JCVD and buy some concessions while you're here to support our gracious hosts at the Bug Theater! There will be power popcorn, JCVD's Fireball Beer, badass bald-eagle shakes, killer cupcakes, da-bomb brownies, and more!
(6pm-7pm) Pre-show festivities
(7pm-7:30) Introduction & Trailers
(7:30-8:00) JCVDDV
(8:00-close) Afterparty, Poster Signings, possible Q&A
See the most intense, action-packed, hilariously stupid, spine-splitting, face-meltingly awesome movie of the decade!
Nebulus Visions Multimedia presents in association with R. Giddy Productions and Twelve Monkeys Dancing Films:
Mayor Thomas Knob (Ryan Carroll) plans to demolish the Paradise City hockey stadium to build his new mansion in its place. But Col. Luc Sloane (JCVD) and his son Kurt (Adam Smith) stumble onto his scheme which leads them into an action-packed, adrenaline-fueled race against time where Sloane's TimeCop daughter, Sarah (Risa Scott) tracks them down from the dystopian future Knob has created. It's up to the Sloane family and their damn van to battle through motorcycle ninjas, gangland assassins, a cyborg, and a serial killer (Cougar) in order to stop Mayor Knob once and for all!
Also starring: Robert Tanaka, Eileen Agosta & Josh Hahn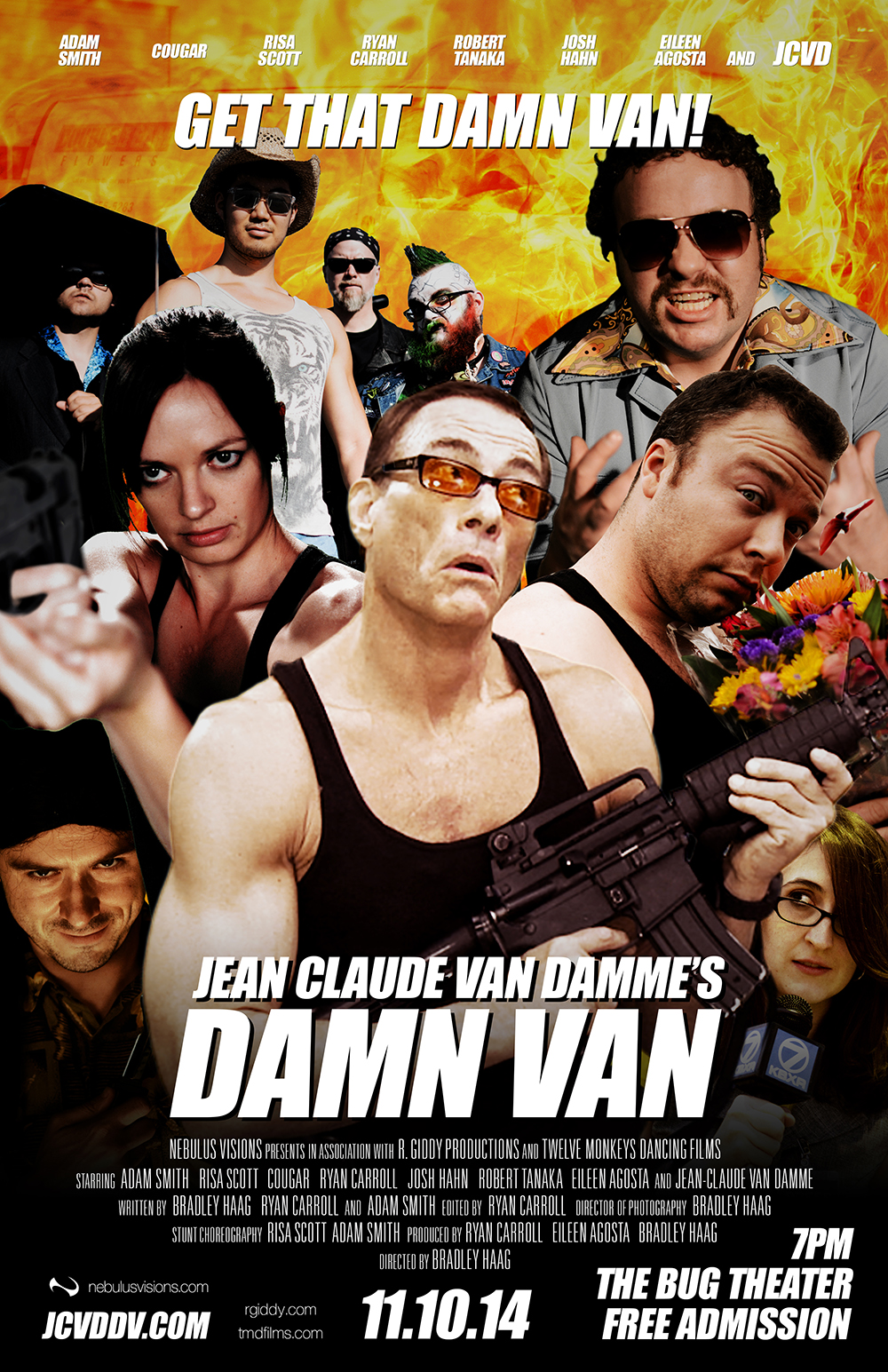 About the Author: Brad
His earliest memory of nerdiness is discovering the Star Trek motion pictures when his parents (presumably) accidentally rented the first one on laser disc. He attended his first convention at the age of 12 and has been to many Star Trek conventions since, as well as SDCC, NYCC, and E3 twice. He's also an avid TMNT fan who has each of the first four issues of the original comic book signed by Eastman AND Laird. Brad also favors Batman and loves Nintendo so much he still plays his Virtual Boy from time-to-time. When he's not immersed in nerd media, he's out competing at bar trivia or working on several creative projects like podcasting, producing short films, publishing books, and drawing cartoons. His favorite film of all-time is Teenage Mutant Ninja Turtles: The Movie and with over 600 DVD's and blu-rays in his collection, Brad is surely a Reel Nerd.