Welcome, nerds, to the results of the first official week of our Reel Nerds Podcast fantasy movie league! We practiced over the summer movie season and now, for the next 14 weeks, we're going to really find out who, in a landscape of less obvious blockbusters, which of us has what it takes to generate the most revenue for our theaters.
As you can see, Radley Cinemas (Brad) narrowly won this week, with Jason's Farthouse Cineplex (Jason) taking second by an even slimmer margin. I swear, yesterday when I checked the results, ColoRadJoe (Joe) was in second, but I guess FML did some recalculating overnight and here we are. PeterParker (Ryan) really doubled down on "The Light Between Oceans" thinking it would be a sleeper hit like "Me Before You"? Doctor Acula's Movie Funhouse (James) didn't even update his sparse lineup from last week and still beat him.
At the very bottom is Movies After Ass (Zach) who has failed to play for several weeks now, so we can only assume he's pursuing the Taco award.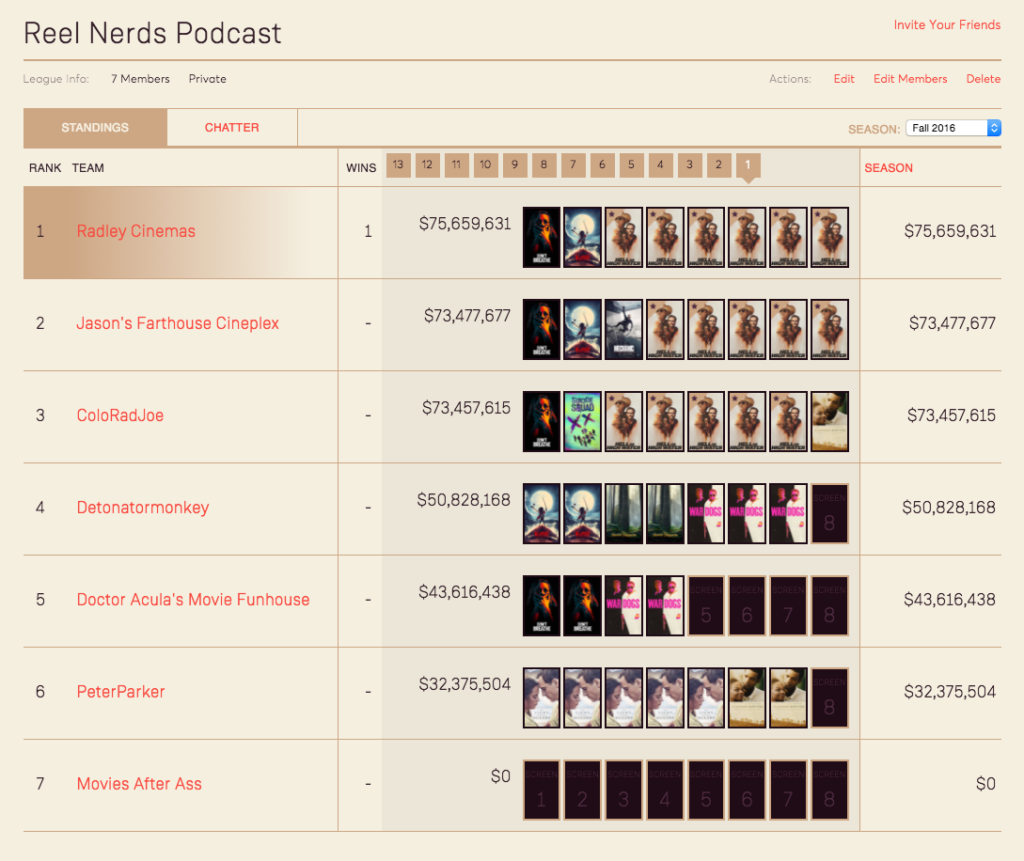 Every week Ryan, James, and Brad of Denver based Reel Nerds Podcast attend a new movie and then we podcast our experience to the world. We also share news, opinions and reviews of movies, comics, video games and pop culture! Turn off your cell phones and save the chatter for after the credits!