*exhale* Well that was a stressful weekend. The numbers were all over the place with players trading the top spot daily as estimates rolled in. With the added difficulty of predicting how much the box office would dip on Christmas Eve and how much it would gain with a holiday Monday, and all the new releases arriving either Wednesday or Friday or expanding Sunday, you might as well have thrown a bunch of darts at a board to pick your lineup. The final PC was 1x Sing, 1x Passengers, and 6x Fences (although, according to FML, some studios still haven't finished reporting).
Radley Cinemas picked up his first win of the season and took the overall lead from ColoRadJoe, who claims the 3rd spot this week, just ahead of Tyler Perry's A Medea Cineplex in 4th. Movies After Ass set another lineup this week, grabbed the only BP bonus, and managed not to come in last because Doctor Acula's Movie Funhouse didn't set a lineup. He let last week's lineup rollover without replacing the Sat/Sun Rogue One combo and thus, with two empty screens, grossed a mere $3,477,944. Ouch.
Next week is another 4-day box office tally, but no major releases should make Week 5 a little easier to predict.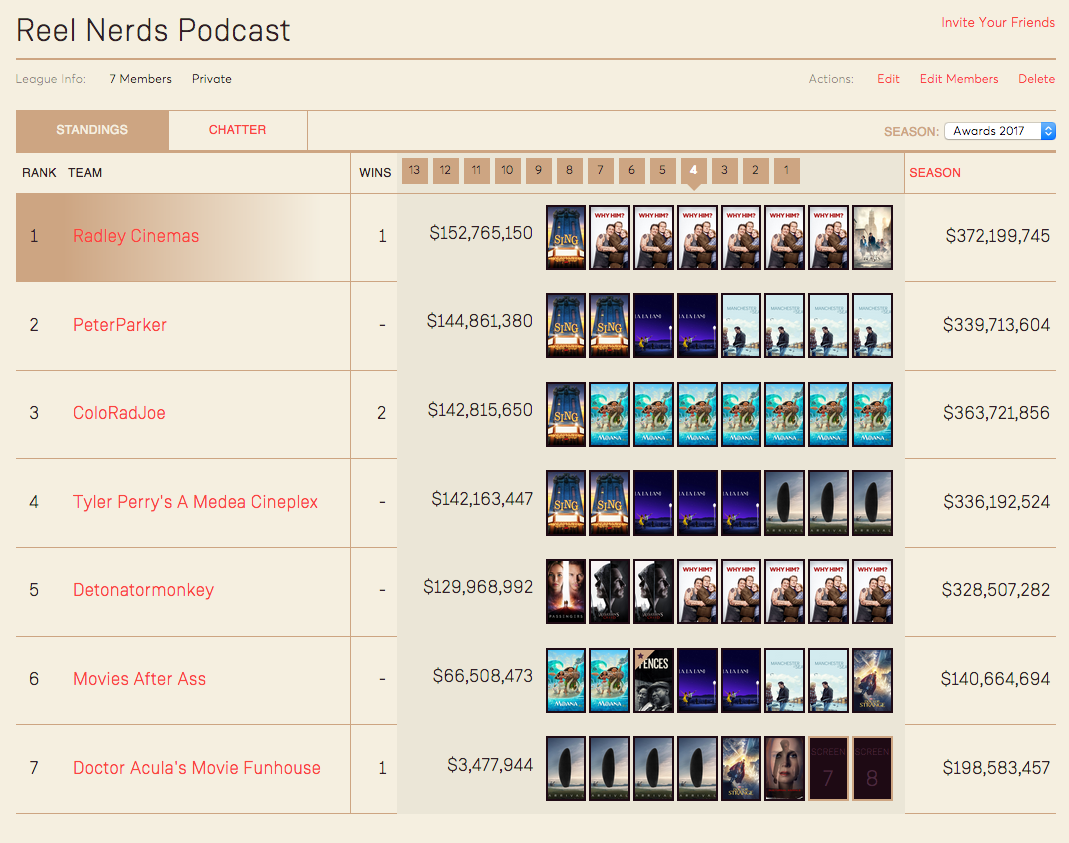 Every week Ryan, James, and Brad of Denver based Reel Nerds Podcast attend a new movie and then we podcast our experience to the world. We also share news, opinions and reviews of movies, comics, video games and pop culture! Turn off your cell phones and save the chatter for after the credits!