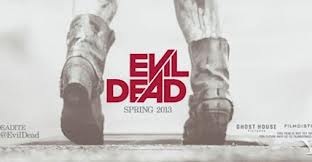 Starring: Jane Levy, Shiloh Fernandez, Lou Taylor Pucci, Jessica Lucas, Elizabeth Blackmore
Directed By: Fede Alvarez
It's no secret that I am a big The Evil Dead fan. To Me it's one of the most innovative horror films of all time. It is also made by my favorite director Sam Raimi. So when I heard that it was being remade like most fanboys I was a little scared. It's my sacred cow, and a lot of times when horror is remade they neuter it. THIS IS NOT THE CASE WITH EVIL DEAD. It is a hardcore, violent, bloody good time.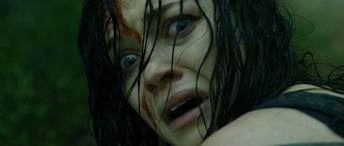 The movie has a very cool opening. It gives you a little insight into the world of Evil Dead, which is important because the original is a 30 year old cult classic that everyone might not be familiar with. (Not gonna go into details, remember spoiler free!) We are next introduced to 5 friends that have gathered at a cabin in the woods to help their friend Mia. Mia is a drug addict and she wants to kick her habit by going cold turkey and being in the country with her friends. 
The cabin has been broken into but is deserted. And we slowly learn why all of these friends have grown apart. There is a lot of tension between Mia, and her brother David. David left Mia when their mother was dying and Mia has not forgiven David yet. Mia drops her drugs down a well and all the characters brace for her withdrawal. After a little bit Mia starts to complain about a smell, no one believes her until they notice a bloodstain that leads into the cellar…
That is just a little taste of what the movie is about. I don't want to spoil anything else because The Reel Nerds will review it for our April 5th show. I will say that the movie is really good. Sam Raimi, Bruce Campbell, and Rob Tapert all involved in the original produced this film and hand picked director Fede Alvarez.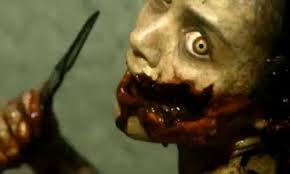 And he delivers a great horror film. I went from being worried to being an enthusiastic supporter of the film. The gore is amazing, done mostly through practical means, will have you wincing and looking away. I looked away and I have seen a lot of horror movies. This movie is brutal, shocking, and a hell of a lot of fun. The only thing that hold this movie back from a perfect score is some of the acting and dialogue is not very good. You forgive it however, because it is so strong everywhere else. Jane Levy is great as the lead Mia, and Alvarez directing is spot on. It is also a great movie to see with a crowd because the audience reactions in the movie I attended was priceless. So grab your Necronomicon and go see this movie with friends on April 5th, oh and be sure to stay until the credits are over, the cut I saw had a little tag scene.
About the Author: Ryan
As far as nerds go, there are not many reeler than Ryan. His love for movies is unmatched. He also loves comic books. When you combine comic books and movies Ryan is at his happiest. He enjoys all forms of pop culture and prides himself on knowing more then average nerds. Ryan has a couple of characters he prefers over the rest, first and foremost is Spider-Man. He also loves Ash from the Evil Dead. Ryan also enjoys Finishing people in Mortal Kombat and hopping on Goombas. He has attended Comic-Con and several Starfests with his good buddy Brad. He is amazed on how awesome Brad is at designing Reel Nerds pages. But don't tell Brad he needs to stay humbled. Favorite movie: Army Of Darkness Favorite Genres: Action, Horror, Comic Book, Comedy