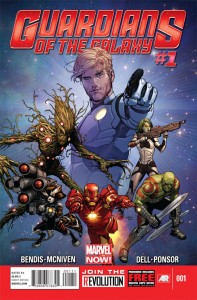 Every week on Reel Nerds Podcast we delve into our long boxes and choose a comic that you have to read. This week James selected the new Guardians of the Galaxy! Written by superstar Brian Michael Bendis and drawn by the wonderfully talented Steve McNiven, GoG is getting the all star release it deserved. Iron Man also stops by. And hey there is even a Raccoon who has a big gun, so it has to be good. This will also get you primed for the upcoming movie that is slated to hit next year!
As always you can pick this up at (hurry, this is a hot comic! Get it now!) Colorado Coins,Cards, and Comics. While your there make sure you sign up for a subscription hold slot to guarantee you get the comics you want, you will also get 20% of the cover price, plus they bag and board it for you as well! Just ask for Andrew and tell him the Reel Nerds sent you!
About the Author: Ryan
As far as nerds go, there are not many reeler than Ryan. His love for movies is unmatched. He also loves comic books. When you combine comic books and movies Ryan is at his happiest. He enjoys all forms of pop culture and prides himself on knowing more then average nerds. Ryan has a couple of characters he prefers over the rest, first and foremost is Spider-Man. He also loves Ash from the Evil Dead. Ryan also enjoys Finishing people in Mortal Kombat and hopping on Goombas. He has attended Comic-Con and several Starfests with his good buddy Brad. He is amazed on how awesome Brad is at designing Reel Nerds pages. But don't tell Brad he needs to stay humbled.
Favorite movie: Army Of Darkness
Favorite Genres: Action, Horror, Comic Book, Comedy