Shit. Shit. Shit. Shit. Shit. Shit. SHIT!!!!
Apparently, the Resident Evil audience has eroded and I guess people didn't care if A Dog's Purpose is to be a slave to man's irresponsible filmmaking practices. This has caused a major shakeup in our leagues' standings. Radley Cinemas, who was leading by $60m two weeks ago, now finds himself in third place overall, coming in dead last in Week 9 and now $60 behind the new #1! Despite placing 2nd this week, ColoRadJoe is the new league leader by $40m dollars ahead of the new #2, Tyler Perry's A Medea Cineplex. Brad is currently boarding up his home refusing to hand over the Nerdy is ColoRadJoe wins out. "He'll have to take it from my cold, dead hands!" he screamed from a third floor balcony.
Four other teams did well responding to La La Land's awards surge. The Oscar nominations clearly convinced people still on the fence to come out for it. Including it in their lineup keeps them chasing our leaders.
Next week we find out how well the Ring franchise is still doing or not doing.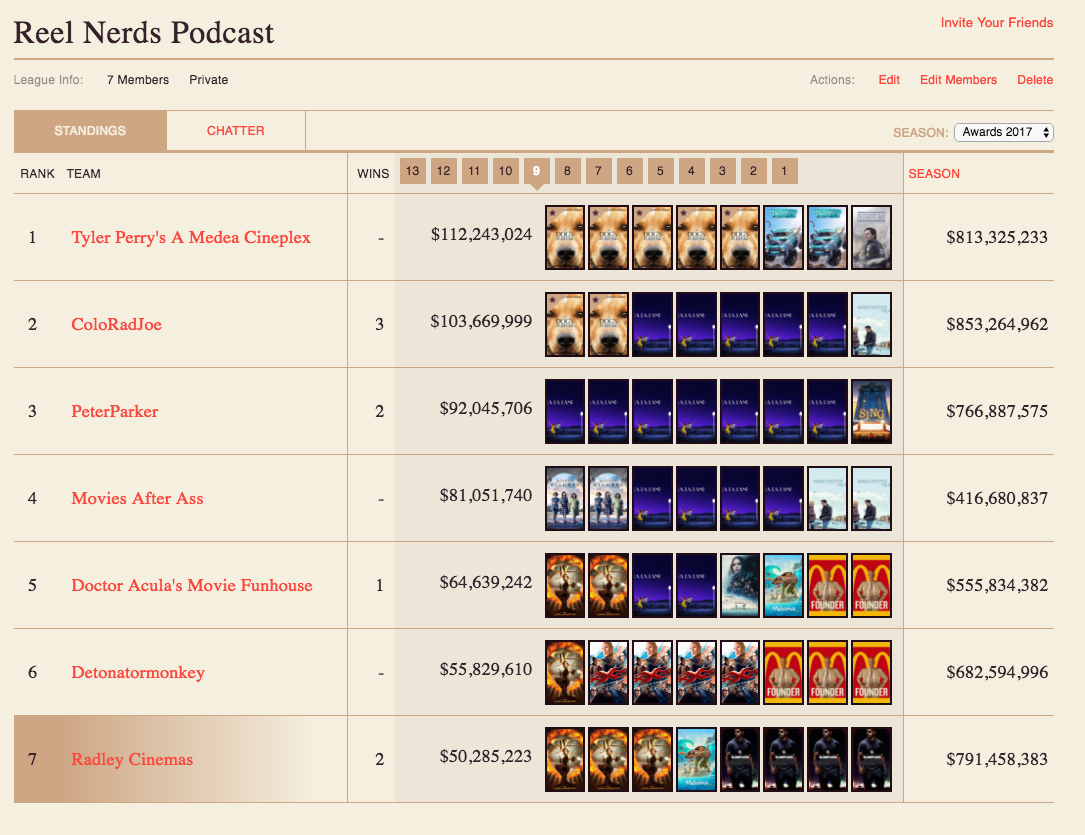 Every week Ryan, James, and Brad of Denver based Reel Nerds Podcast attend a new movie and then we podcast our experience to the world. We also share news, opinions and reviews of movies, comics, video games and pop culture! Turn off your cell phones and save the chatter for after the credits!