Well, to no one's surprise, ColoRadJoe's fifth win sealed the deal, making him the victor of our Awards 2017 season. Come get your fucking trophy Joe if you can pry it from my hands, you clairvoyant motherfucker! 

Seriously though, great job on a massive season. Your final total gross also eclipses Radley Cinemas' high score from the Fall 2016 season, which is quite a feat in what some claim is the most difficult season of the game. How many 4-Day weekends were there? (Too many if you ask me, dammit)
On the other end of the spectrum, Movies After Ass is also a winner! Winner of another 13 tacos for coming in last. Happy Birthday, Zach!
Get Out outperformed expectations, obtaining the BP bonus and granting the four teams who played it 3x the advantage. Unfortunately for three of those teams, the action-thriller Collide didn't debut better than most arthouse releases like Lion and collided with a wall of disappointment, handing ColoRadJoe the win.
The fun continues next week as Spring 2017 begins with the release of Logan while Radley Cinemas stares melancholic at the ring of dust on the shelf indicating where his Nerdy used to stand.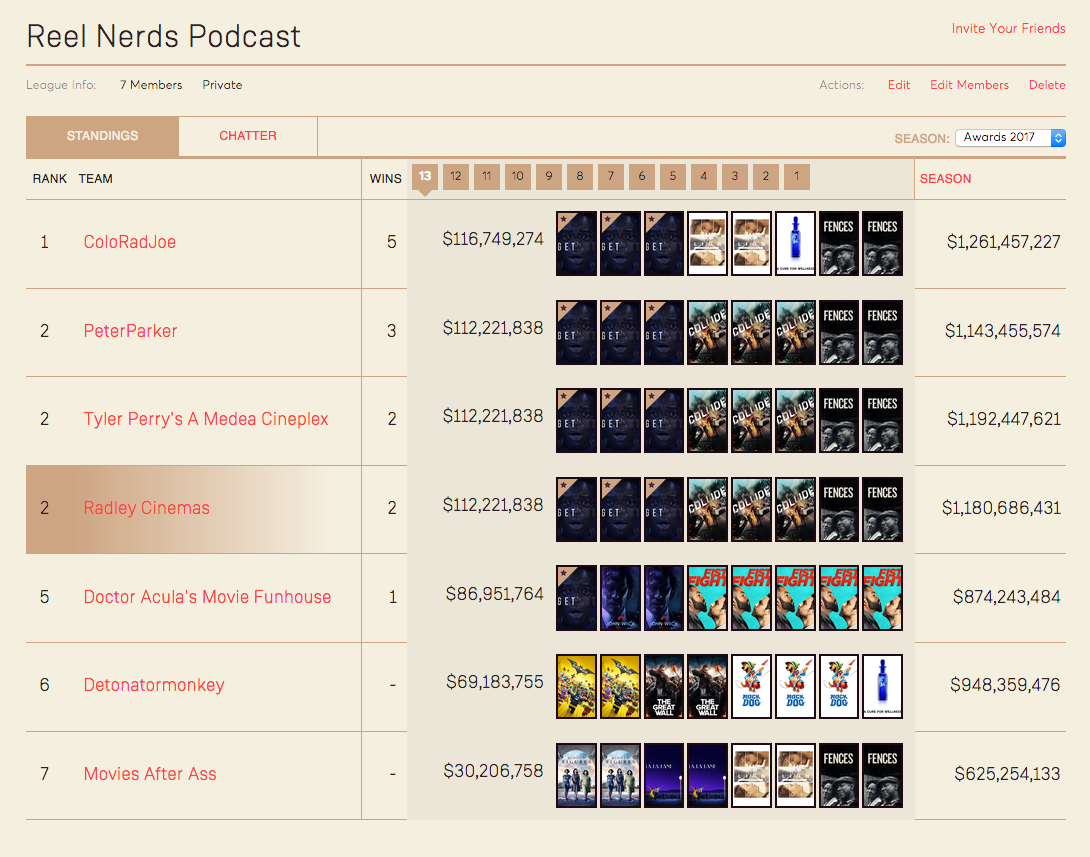 Every week Ryan, James, and Brad of Denver based Reel Nerds Podcast attend a new movie and then we podcast our experience to the world. We also share news, opinions and reviews of movies, comics, video games and pop culture! Turn off your cell phones and save the chatter for after the credits!