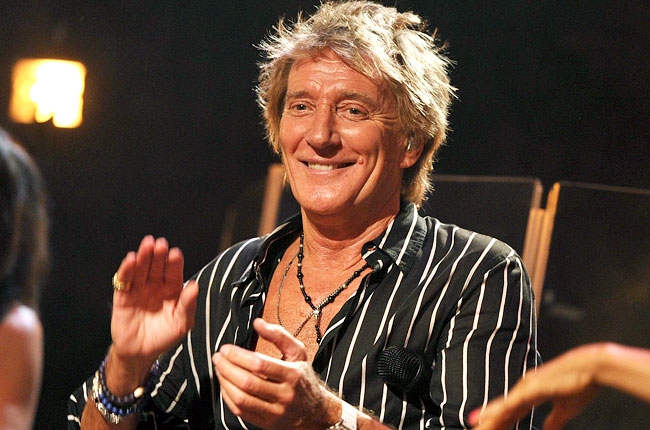 It's no secret that Rod Stewart is my favorite singer. I can remember the first time I saw him perform on video, it was his 1985 Concert Video and when he strutted across the stage singing "Infatuation"I was hooked. With his new album being released on May 7th I thought it would be fun to share some of the movies that he has contributed songs to, from the well known to some hidden gems. Also I will tell which movie you can watch and see a Rod cameo, so let's get rocking!
Rod Stewart has been performing since the 60's, so it's no surprise that he has contributed to over 90 films' soundtracks. The first song he recorded that did not appear on an album for a movie was a cover of the Beatles' "Get Back" which he recorded for the documentary "All This and World War II". It's a fun cover but it and the movie never really caught on. "Private Lessons", in 1981 featured 3 Stewart songs and was a modest hit. It wasn't until 1982 when Rod finally recorded a song written for him and was the featured song on a soundtrack. The movie was "Night Shift" and the song was "That's What Friends Are For". Although Rod's version didn't make waves, this Burt Bacharach and Carole Bayer Sager penned tune went on to be a huge hit for Dionne Warwick and friends as a charity single for AIDS research.
Stewart next scored a top ten hit with the somewhat silly but unbelievably catchy "Love Touch", from the 1986 film "Legal Eagles". Rod has said he will never sing this song live as it is a terrible song and the lyrics are too silly to sing. And yes the song is silly but I think it's pretty fun, and hey look how much the fun the extras in the video are having.
Next up is one of my favorite movies when I was a kid, 1987's Innerspace. Rod Stewart has always been a huge fan of Sam Cooke, and has covered him multiple times. On this soundtrack he rerecorded "Twistin' The Night Away" that he first recorded in 1972 on the album "Never A Dull Moment". For the 'Innerspace" soundtrack he updated the sound and changed the tempo and danced with the films star in this really cool video. One of my favorites.
http://www.youtube.com/watch?v=OYO_ptkQsOo&playnext=1&list=PL1E7F15BD4B9161AA
My favorite actor is Robert Downey Jr. My favorite singer is Rod Stewart. Put them together, magic. Rod's great 1988 song "Forever Young" is featured in the fantasy comedy "Chances Are". 1993's "So I Married an Axe Murderer" doesn't really feature Rod Stewart, but it stars Mike Myers in several roles. including the father of Charlie also played by Myers named Stuart. Stuart is a fun loving Scot who loves Rod Stewart and sings his songs loudly and incorrectly whenever he is drunk or drinking, lots of fun.
Rod scored a number 1 hit with fellow rockers Sting and Brian Adams on "All For Love" off the soundtrack for Disney's "The Three Musketeers". The movie is lots of fun and so too is the song.
Rod had more catalog songs appear on soundtracks over the next 5 years but it wasn't until 1998's Patch Adams when he recorded a song for a soundtrack, "Faith of the Heart" fits the movie and is perfect for Stewart's soulful voice but it like the movie is a little candy coated. Still it is a fun catchy song. (this is not a real video for the song but it's well done.)
"Faith of the Heart" would be the last song Stewart would record for a movie but he would still have songs featured in movies, here are some of the highlights:
"Almost Famous" features "Every Picture Tells a Story"
"The Perfect Storm" features "Rhythm of My Heart"
"Charlie's Angels" features "Angel" which  Rod started to include in some of his concerts after it's release.
The video game Grand Theft Auto: San Andreas inlcudes "Young Turks"
"Invincible" features "Mandolin Wind"
"Halloween II" the remake features "I Know I'm Losing You". It is used very effectively in this movie, it's really haunting.
"Due Date" features  Rod's hidden gem take on "Amazing Grace" and it is really powerful .
And last but not least Rod makes a cameo as Lucy Liu's date in the boxing comedy "Play It To The Bone"
Also you should pick up Rod Stewart's new album "Time" on May 7th, here is the official video for the song "It's Over"
or maybe you like your songs upbeat, here's another off "Time" the catchy "She Makes Me Happy"
About the Author: Ryan
As far as nerds go, there are not many reeler than Ryan. His love for movies is unmatched. He also loves comic books. When you combine comic books and movies Ryan is at his happiest. He enjoys all forms of pop culture and prides himself on knowing more then average nerds. Ryan has a couple of characters he prefers over the rest, first and foremost is Spider-Man. He also loves Ash from the Evil Dead. Ryan also enjoys Finishing people in Mortal Kombat and hopping on Goombas. He has attended Comic-Con and several Starfests with his good buddy Brad. He is amazed on how awesome Brad is at designing Reel Nerds pages. But don't tell Brad he needs to stay humbled. Favorite movie: Army Of Darkness Favorite Genres: Action, Horror, Comic Book, Comedy